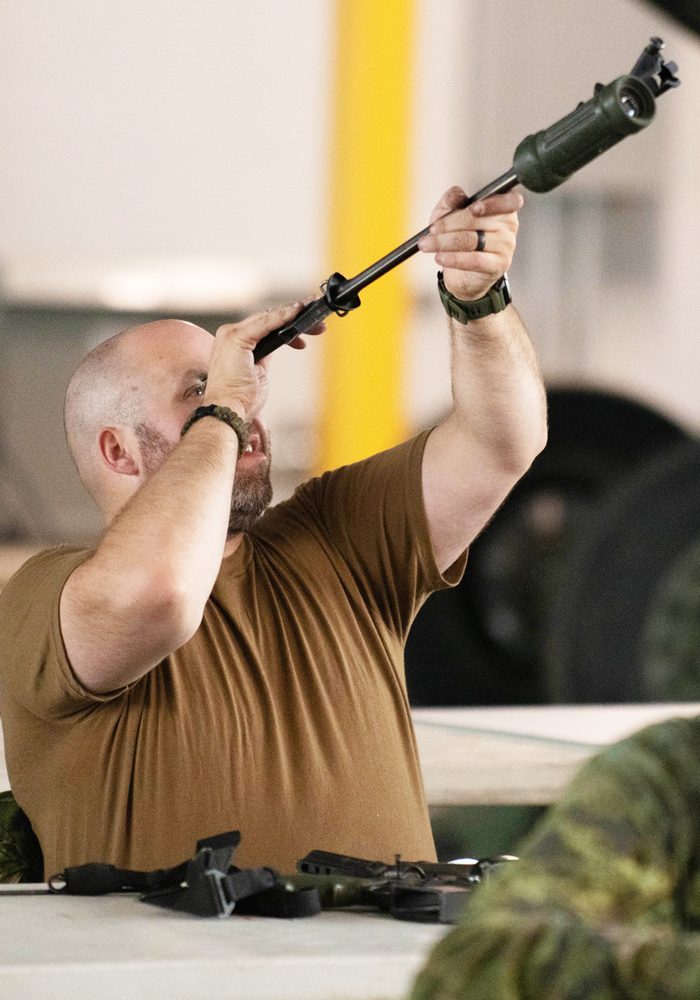 A participant engages in training exercises at the leadership conference, Exercise BUILDING RAM held at CFB Shilo from Sept. 5 to 10 where command teams met for professional development.  Photo: Master Cpl. B.J. Liddy/CFB Shilo
K-J Millar
Shilo Stag News
High-quality soldiers empowered to act have a capability that adversaries can not match, said Colonel Phil Bourque, commanding officer of 1 Canadian Mechanized Brigade Group (1CMBG) after the recent leadership conference held at Canadian Forces Base (CFB) Shilo from Sept. 5 to 10.
"1 CMBG's number one priority is our soldiers," he said.
Just less than 100 Canadian Armed Forces (CAF) members, mostly leadership teams, from Edmonton and Shilo, attended Exercise BUILDING RAM in a six-day event, participating in field training, a rucksack march, individual battle task standards (IBTS), live fire in pairs and movement lanes, professional development and War Cabinets.
Commanding Officer Lt.-Col Jesse van Eijk, of 2nd Battalion Princess Patricia's Canadian Light Infantry (2PPCLI) said the exercise provided an outstanding venue to share best practices.
"[We] identified areas where we can all take steps to improve the efficiency of our processes and drive towards spending more time training soldiers to fight and win."
He said further to the physical workouts, the opportunity for key leaders to meet in an environment outside their regular offices and "soldier together" was significant.
"[The opportunity] to remind ourselves what being in the Army is all about was invaluable."
Following the field training, leadership teams conducted professional development sessions and War Cabinets, focussing on improving soldiers' experiences in 1CMBG through the year and into the future.
Colonel Bourque said having the command teams together from each unit provided the ability for detailed discussions and information exchange.
"… to see what's working, what isn't and to share ideas about how to better our processes to enhance our common soldiering experience."
"Unit cohesion common operating picture is a key component to successful operations for a combat-ready brigade," Col. Bourque said.
Guest speakers specializing in various areas provided professional seminars centred on the continuous need to "remember our history so we do not forget who we are," the press release stated, as well as the importance of the fighting spirit, physical and mental resiliency, respect and empathy.
The War Cabinets focused on streamlining administrative processes and improving up-and-down communication with units, 1 CMBG and the division.
At the session's close, Col. Bourque said he was delighted with the successful exercise.
"I am very pleased with how things worked out, and I already have my staff working on some of the key takeaways."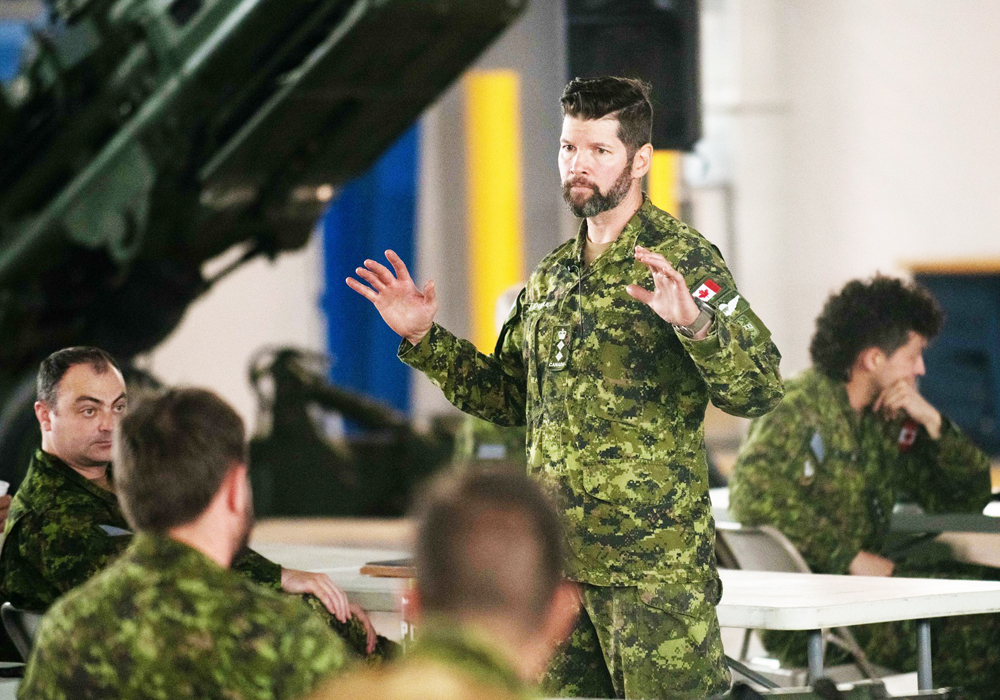 Colonel Phil Bourque, commanding officer of 1CMBG adresses participants at a leadership conference, Exercise BUILDING RAM held at CFB Shilo from Sept. 5 to 10 where command teams met for professional development.  Photo: Master Cpl. B.J. Liddy/CFB Shilo