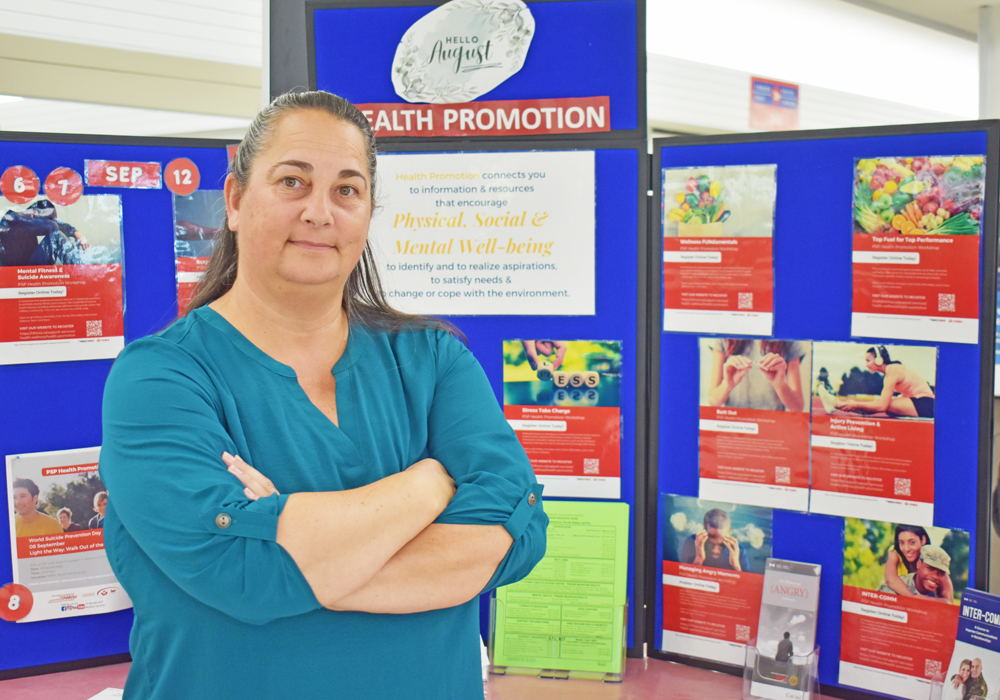 Ginger Lamoureux, Health Promotion manger said that 12 people die by suicide each day across the nation and Army bases, especially combat bases, have a higher number of suicides than any other environment, including the Air Force and Navy.  Photo: K-J Millar/Shilo Stag News
K-J Millar
Shilo Stag News
Warning: This article talks about suicide and may be upsetting to some readers.
Suicide is the second leading cause of death in people between the ages of 15 and 34 in Canada, Ginger Lamoureux, manager of PSP Health Promotions, said ahead of the third annual suicide awareness CFB Shilo community walk on Sept. 8.
The five-kilometre Light the Way Out of Darkness Walk for Suicide Prevention heads off at 8:15 a.m. in the south parking lot at MFRC. The event marks the start of World Suicide Prevention Week from Sept. 10 to 16 and honours those affected by the tragedy. The walk is open to all members of the community.
"Males within that category are three times more likely to die by suicide than females," Lamoureux told Shilo Stag News.
"Since the Canadian Armed Forces is made up of [predominately] males, it just stands to reason that it is a concern."
Army bases, especially combat bases, have a higher number of suicides than any other environment, including the Air Force and Navy, the health promotions manager said.
The high statistics of CAF suicides are not attributed solely to combat service overseas. Lamoureaux said there are several studies and reports indicating suicide numbers are "multi-factual," meaning individuals could be affected by mental health disorders, forms of depression or traumatic events in their personal lives.
"So, that's why it's a concern for us. [We want] to make sure that we have this event because we are an army base. We do deploy regularly. We do have a high rate of males on the base."
"When you start checking off all the boxes, it makes sense that we would want to make sure we are having conversations around mental fitness and suicide awareness," Lamoureux said.
Statistics are updated every few years, she explained, adding a Canadian Mental Health report from 2018 indicates one in five of the general population dies by suicide.
Twelve people across the country die by suicide each day totalling 4,500 deaths from the cause across the nation annually.
There are several resources available to CAF members and their families.
Military members who are having suicidal thoughts can reach out to the mental health department at the Base Hospital. The staff at Health Promotions are not certified counsellors. They are certified in mental health first aid and can provide referrals to qualified mental health professionals.
"If somebody's struggling and you come across them here on the base, or just outside the base in this part of the community, you can reach out to the Westman Crisis Centre. They have a mobile unit that will send out [qualified professionals]", she said.
Also available are the courses that PSP Health Promotions runs, called Mental Fitness and Suicide Awareness, which is also the name of the September health promotional campaign.
The first four hours of the eight-hour course focus on mental fitness, what it is, what it looks like, how it compares to physical fitness and what are the signs of mental fitness.
Lamoureux explained that mental health is a continuum or a sliding scale. It can be different every day, depending on what an individual is dealing with.
"It can go from green to red and back again. It really depends on the event and the situation of the day and what multifaceted things are going on in your life."
During the course, there are discussions, retroreflective analysis and various scenarios are worked through.
"We talk about different risk factors and protective factors, signs and symptoms of potential behaviours and potential verbal cues so these can be identified," she said.
Lamoureux clarifies that she facilitates the course and does not "teach" it. The classes run at least six times a year in groups of no more than 16 participants. The next workshop will be at the end of September. Registrations can be completed preferably online, also in person at the Health Promotions office or by email at shilohealthpromotion@forces.gc.ca