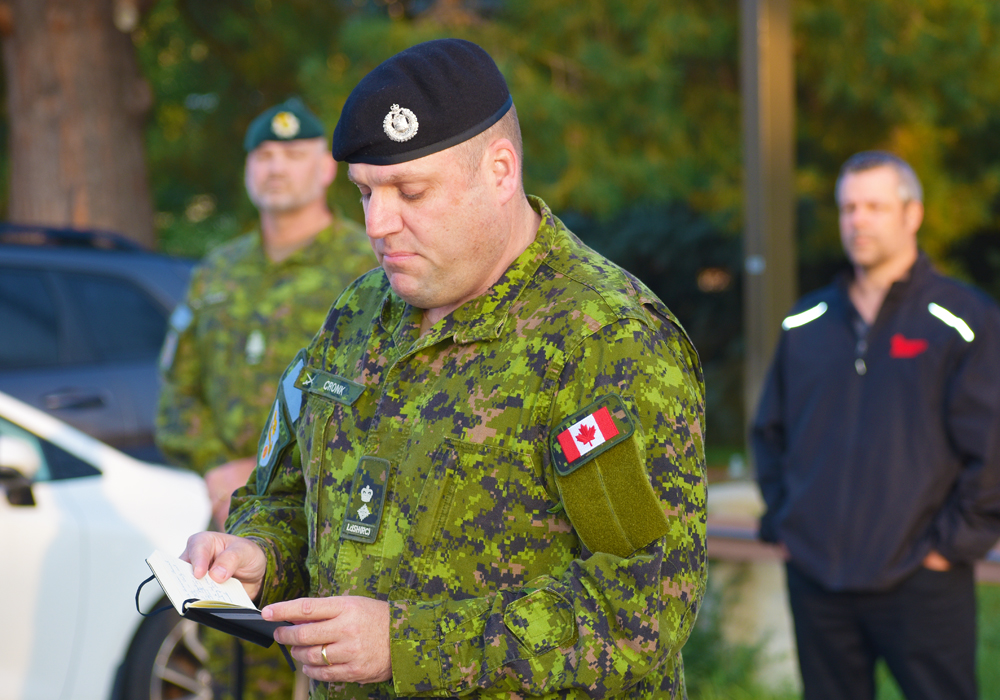 Lieutenant Colonel David Cronk, Base Commander at Canadian Armed Forces Base Shilo addresses a crowd of more than 100 people who attended the Light the Way Out of Darkness Suicide Awareness Walk on Sept. 8. He said mental health issues and reaching out for assistance should not be stigmatized.   Photo: K-J Millar/Shilo Stag News
K-J Millar
Shilo Stag News
Seeking help for experiencing suicidal thoughts or suffering from depression should be normalized, said CFB Shilo Base Commander Lieutenant-Colonel David Cronk at the Light the Way Out of Darkness Suicide Awareness walk held on Sept. 8.
"Seeking help shouldn't be stigmatized," he said, addressing the crowd of more than 100 participants at the event to mark Suicide Prevention Day, commemorated internationally on Sept. 10.
"Suicide awareness and suicide prevention is especially important in our community, the military community, where we have a job and a profession which has stressors and a work environment, unlike many others."
Members and residents who were not able to attend the third annual walk can still participate in supporting suicide prevention and promoting awareness, said Heath Promotions Manager, Ginger Lamoureux.
"We ask that tonight at 8 p.m., you turn your porch light on to support anyone suffering from mental health issues so that they know you are available to them and that you are more than willing to have a conversation with them providing any resources you can, " she said.
Suicide is the second leading cause of death in people between the ages of 15 and 34 in Canada. Males within that category are three times more likely to die by suicide than females.
Army bases, especially combat bases, have more suicides than other environments, including the Air Force and Navy.
"Unfortunately, too many of us have been touched by experiences where [CAF] members close to us go down the path of suicide," Lt.-Col. Cronk said.
Activities like Light the Way out of Darkness bring to the forefront of people's minds issues surrounding suicide, the Base Commander said, and those suffering can see there is support for them.
"We do activities like this to put the spotlight on it –  to Light the Way…"
"It also creates resilience, giving people an understanding that anybody might be suffering from a mental health issue or feeling depressed," Lt.-Col. Cronk said
"Everyone has a spectrum of needing some mental health assistance. At some point, it should be normalized."
The base commander encouraged everyone to become educated and to recognize the signs that someone may need assistance. He stressed to participants to be kind and be a good person.
"You never know what someone else is going through and your positive interaction might make a difference," he said.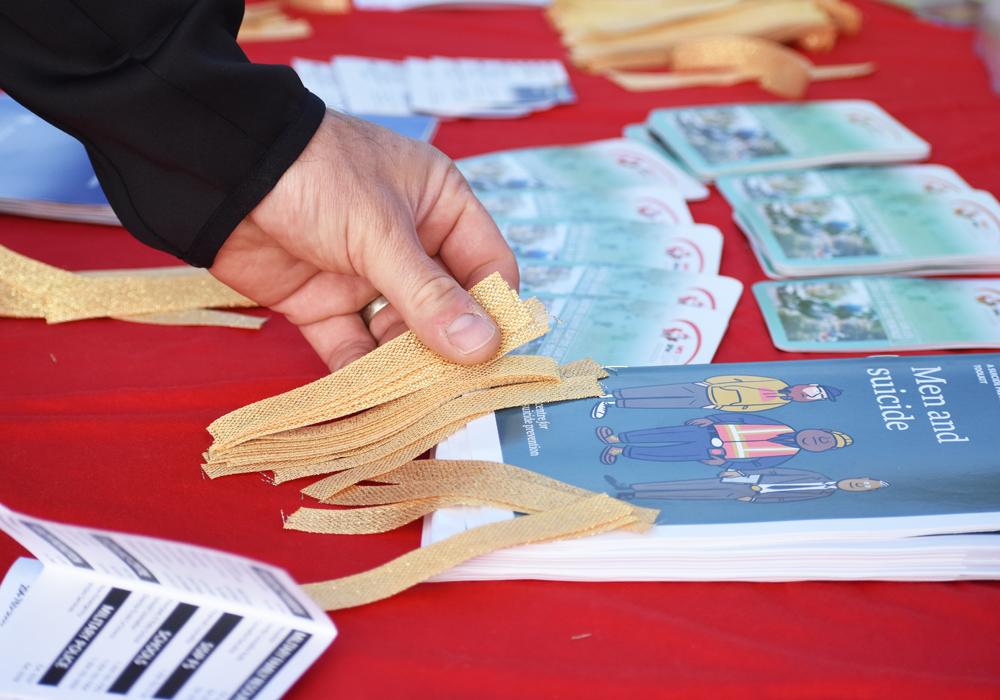 Gold ribbons were available at the Light the Way Out of Darkness Suicide Prevention Walk on Sept. to be placed on the Royal Ave. fence to raise awareness of the issues and support those affected by suicide. Photo K-J Millar/Shilo Stag News