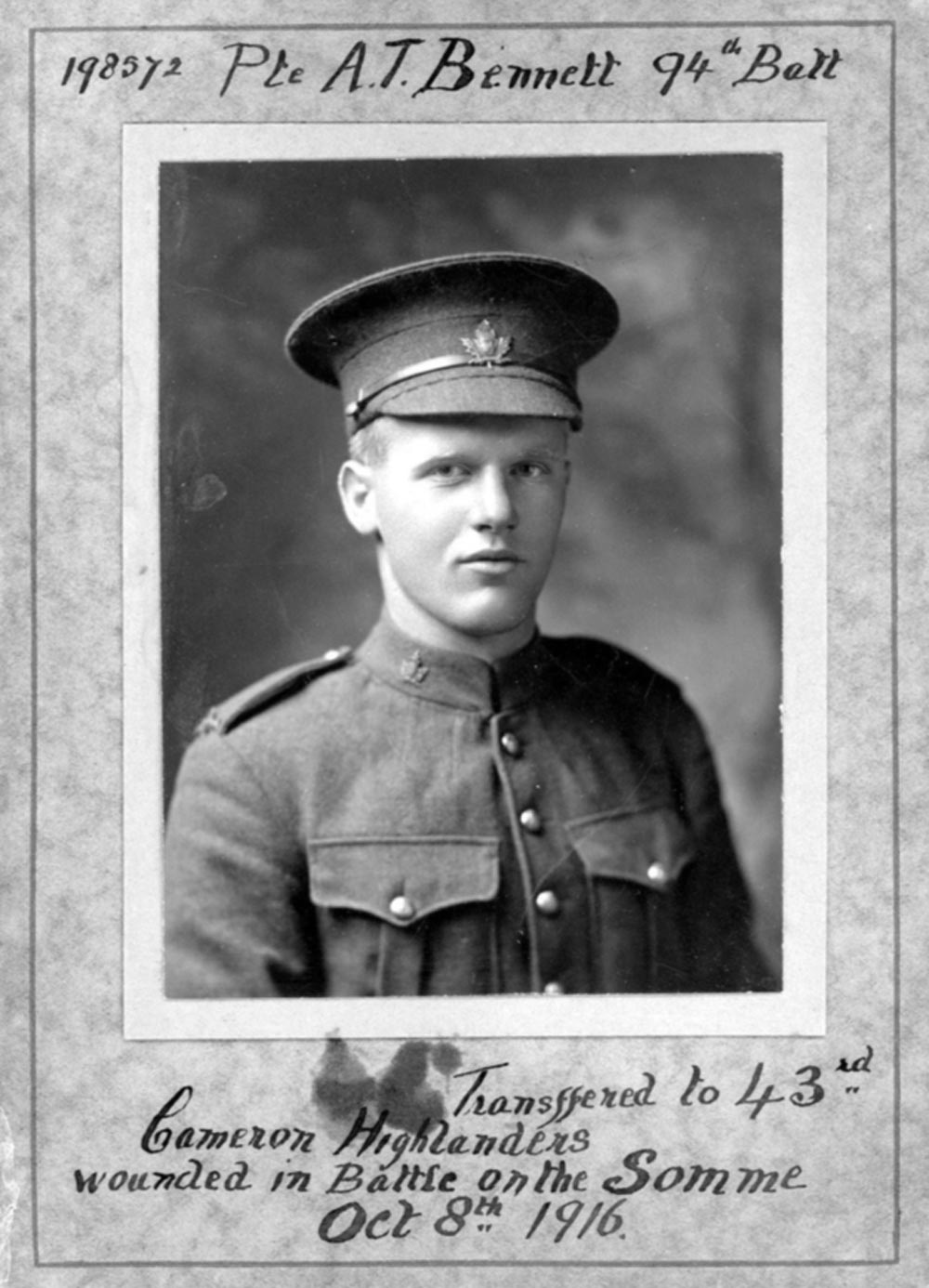 Venessa Léger
Stag Special
Occasionally, RCA Museum staff are lucky enough to find artifacts which tell a complete story.
Such is the case with a collection of old photos and records donated years ago by Mary Bennett, wife of the late SSgt Albert Thomas Bennett. The documents tell the story of a man who chose to dedicate most of his life to military service and found a home within the Army.
Albert Thomas (Tom) Bennett was born in Bristol, England, in 1898. He and his family soon immigrated to Canada and settled in Dryden, Ont.
On 
Christmas
 Day 1915, Bennett enlisted with the Canadian Expeditionary Force (CEF), despite being underage. He served overseas with the 94th Battalion and fought at the Battle of the Somme in France. There, he was wounded and transferred to the 43rd Cameron Highlanders, with whom he continued to serve until his discharge a few months before the Great War ended.
Upon his return to civilian life, SSgt Bennett went to school to become a plumber and forged his own company in Ontario.
At the Second World War outbreak, he sold his plumbing business and enlisted once more, this time in Winnipeg, Manitoba. Coincidentally, this enrollment date was again on 
Christmas
 Day 1940.
SSgt Bennett took up service with the Royal Canadian Engineers. He worked as a sanitary heating engineer, installing plumbing in German prisoner-of-war (POW) camps east of Schrieber, Ont.
He received a transfer to Camp Shilo, Manitoba, in 1942 and continued working there as a civil servant for another 20 years after his second Army discharge in 1947.
Many of the photos in the SSgt Bennett collection record his time spent in Camp Shilo. One of his photographs shows him posing in a military jeep.
The collection also includes several snapshots of his wife, Mary Bennett (nee Clarke), whom he met on Base during his service at Camp Shilo. At the time, his future wife was a receptionist for the YWCA on the Base, an inviting place where wives, children, relatives, and friends of soldiers could meet. Mary and Tom married in 1952.
After retirement, the Bennetts bought a lot and had a house built in Carberry, where they pursued their passion for gardening together, winning several lawn and garden competitions. He died in 1989 and is buried in the Foxwarren Cemetery.
Photographs from the Bennett collection include one of SSgt Albert Thomas Bennett in a jeep during the Second World War. There's also a photograph from his time serving in the Great War where he was wounded at the Battle of the Somme. Photos RCA Museum archives